After Drumpf called on the GOP to "get tough" on the inquiry, by mid-morning today, dozens of House Republicans who do not sit at the Impeachment Committees led by Steve Scalise (R-La.) (watch video below), stormed the SCIF (Sensitive Compartmented Information Facility) in the basement of the Capitol where impeachment investigators have been deposing witnesses. As a result of that we had a delay to the proceedings having Democrats insisting those lawmakers had no right to be there, and Republicans refused to leave.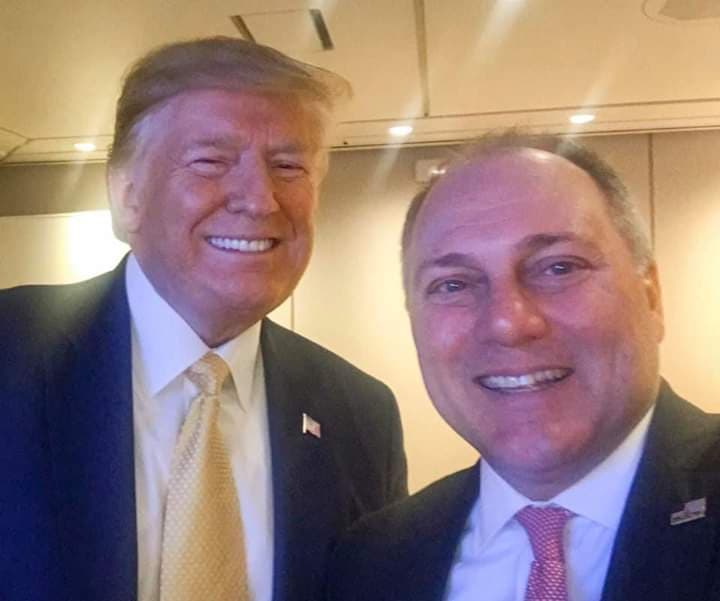 Only members who sit on the authorized committees are permitted to sit in on the sessions and Republicans knew they would be turned away from the closed-door deposition. Nearly a quarter of the House GOP conference -more than 45 House Republicans- have full access to the depositions through their membership on one of the three panels leading the impeachment inquiry.
The Republican effort came one day after Democrats secured some of their most explosive findings in the impeachment inquiry  with William Taylor's testimony, 
Republicans said Adam Schiff (D-Calif.) the House Intelligence Committee Chairman was threatening GOP lawmakers with ethics violations. While Laura Cooper, the Deputy Assistant Secretary of Defense was still waiting to testify behind closed doors, Adam Schiff was consulting with the House's sergeant at arms.
Rep. Harley Rouda (D-Calif.) said about the incident:
"It's completely inappropriate. When the facts are against you, the law is against you, the president clearly committed a crime, you're left with arguing the process,"
Referring to the hard-line conservative group, Rep. Tom Malinowski (D-N.J.) said:
"It's a bunch of Freedom Caucus members having pizza around a conference table pretending to be brave…  All they basically did here was to storm a castle that they already occupied."
Rep. Debbie Wasserman Schultz (D-Fla.) said:
"They basically ran over a member of the staff… They just came into the room and started shouting about the president. Literally some of them were just screaming … saying that the process is wrong."
Republican Rep. Chris Stewart of Utah, talked about the closed-door nature of the impeachment proceedings:
"This may be within House rules. That's not the question. The question is, is it a good idea to impeach the president in secret hearings? This may very well be within Chairman Schiff's and Nancy Pelosi's authority to do this. I think it's a bad idea."
Rep. Michael Waltz (R-Fla.), a member of the Armed Services panel said:
"I represent nearly a million Floridians who are asking me my thoughts on this process, and yet I can't relay to them anything except what's being leaked to the media. It is really a travesty".
Cover Photo Taken by Jill Saunders