Sunday night May 31 to June 1st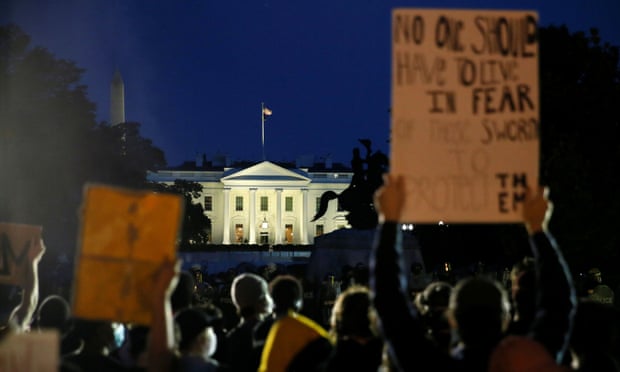 Washington D.C. riots organized in reaction to George Floyd's death continued on Sunday, May 31 until an hour ago, early in the morning June 1st.
Multiple fires broke out in D.C, including one at the historic Episcopal Church of St. John which is located less than 1000 feet from the back side of the White House, and less than 600 feet away from the AFL-CIO (American Federation of Labor and Congress of Industrial Organizations) building.
Police form a line in front of St. John's Episcopal Church near the White House on Sunday night, as demonstrators protest the death of George Floyd.
More than 1,000 people marched to Lafayette Square across from the White House, and at night fall American flags and parked cars and buildings were lit ablaze. The historic Episcopal Church of St. John, were set on fire during the clashes. The historic landmark opened in 1816 and attended by every president since James Madison.
Mariann Budde, bishop of the Episcopal Diocese of Washington, said at the Washington Post that the fire was in the basement of the parish house, which holds offices and the church's nursery. No one from the church was in the building, she said.
Rev. Robert W. Fisher, church rector said that: "It's heart-rending… This is a very historic building."
St. John's Episcopal Church was built in 1815 and its first service was Oct. 27, 1816. It's often called the "church of the presidents." According to the church website, every president since James Madison has attended at least one service there.
Pew 54 is considered the "President's Pew," reserved for the president's use when visiting the church.
Budde said she had stood outside the church earlier Sunday to participate in the demonstrations, when people were handing out water bottles and protesting in a civil manner.
"There are a lot of things to be heartbroken about, but obviously we wanted the church to be a place of haven and safety,".
Before his swearing-in ceremony, President-elect Franklin D. Roosevelt attended a service at St. John's, setting a precedent that has been followed by presidents ever since, including President Trump.
Source of information by Washington Post – FOX News – WUSA9
By Alex Ammohostianos