WASHINGTON  – The White House announced today, that Robert O'Brien, the president's national security adviser, tested positive for COVID 19, making him the highest-ranking official to test positive so far.
The White House announced that there no risk for Donald Trump or Vice President Mike Pence. It's unclear when O'Brien last met with President Trump. Their last public appearance together was over two weeks ago on July 10, during a visit to US Southern Command in Miami .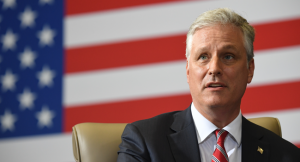 White House officials did not respond to questions about the last time president Trump and Robert O'Brien had contact, but the White House insisted that:
"There is no risk of exposure to the President or the Vice President" and that the "work of the National Security Council continues uninterrupted."
At the same time, according to an unnamed statement to the press from the White House:
"O'Brien is experiencing "mild symptoms" and is self-isolating and working from a secure location off site,"
Robert O'Brien was accompanied 10 days ago on a trip to Europe by Secret Service agents, staffers and multiple reporters. Pictures below released from the aforementioned trip to Europe, shows Robert O'Brien practicing no social distancing nor wearing a mask.
Great to see #UK NSA @marksedwill today. We discussed important bilateral and global topics, including #HongKong, #China, #5G security, and #Iran. The U.S.-UK Special Relationship endures. pic.twitter.com/bYGMfrhIXH

— NSC (@WHNSC) July 16, 2020
Great press engagement with a few of Europe's top journalists. We talked about a range of critical national security topics, including #China, #HongKong, #5G security, #Afghanistan, and our force posture in #Europe. pic.twitter.com/RNGkPGdslH

— NSC (@WHNSC) July 16, 2020
Known COVID 19 cases from president's surrounding in recent weeks:
Last week, a cafeteria employee on White House had tested positive.
Earlier this month, President's son's girlfriend Kimberly Guilfoyle (campaign fundraising official), tested positive before a trip to Mt. Rushmore.
Multiple Secret Service agents and campaign staffers tested positive after becoming infected while preparing for the President's Tulsa campaign rally in June.
Vice President Mike Pence's communications aide Katie Miller tested positive for COVID 19 in May.
One of the President's personal valets tested positive earlier that week.
Sources: – FOX news – NYT – Washington Post – NSC official Tweeter – The White House –
By Alex Ammohostianos