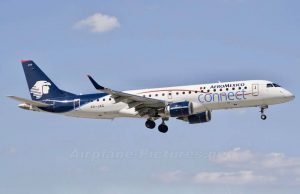 An Aeromexico airliner carrying 101 people from Durango City in Mexico to the country's capital, crashed soon after take-off. All 97 passengers and four crew survived the accident, according to Mexican officials.
Eighty-five people were injured in the accident with two of the victims were in critical condition. The governor of Durango state, Hose Rosas Aisquro, said on Twitter, that there were no fatalities.
According to Gerardo Ruiz Esparza Aeromexico, Mexico's secretary of communication and transport. flight 2431 was carrying 97 passengers and four crew. The plane – an Embraer 190 – landed in a field near the state capital's airport at about 7pm est.
Video from: Aviation Engineering
ACCIDENT / Video from the crash site of XA-GAL, AeroMexico Connect Embraer 190 (age 10.3 years). The airplane was operating flight #AM2431 from Durango to Mexico City with around 101persons on-board. 88 are said to have been injured. AeroMexico is aware of this accident and will provide updates. According to some sources, the airplane operating flight AM2431 from Durango to Mexico City crashed shortly after 5 mins of take-off. The Governor of Durango says that the airplane aborted its take-off due to bad weather and overran the runway, being badly damaged.

Posted by Aviation Engineering on Tuesday, July 31, 2018
Video by: FOX5 Las Vegas