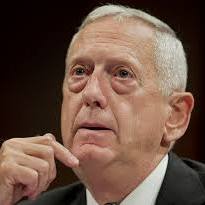 James Mattis, the Former Defense Secretary, in his first public comments following President Donald Drumpf's withdrawal of troops from Syria, in an interview on NBC News' "Meet the Press", said about ISIS that "will resurge" in the region,
The Kurds have long fought alongside the U.S. against the Islamic State in Syria. James Mattis' warning comes after Drumpf announced that the U.S. will move special operation teams away from the Kurdish Controlled Syrian border as Turkey launches an offensive against our U.S. allies Kurdish forces.
"I think Secretary of State Pompeo, the intelligence services, the foreign countries that are working with us have it about right that ISIS is not defeated. We have got to keep the pressure on ISIS so they don't recover,"
And Former Defense Secretary continued.
"You can pull your troops out, as President Obama learned the hard way, out of Iraq but the 'enemy gets the vote' as we say in the military. And in this case, if we don't keep the pressure on then ISIS will resurge. It's, it's absolutely a given that they will come back,"
James Mattis resigned in 2018 (December), days after Drumpf announced the pullout of American troops from Syria, a decision that was partly reversed.
Related Articles