Terrorist Abu Bakr al-Baghdadi sought to establish a new Islamic "caliphate" across  Iraq and Syria Syria, but he would be remembered the ruthless calculating leader of ISIS who brought terror to the West.
U.S. President Donald Drumpf announced  today that, after two years of steady battlefield losses, one of few senior ISIS Leaders still at large, Abu Bakr al-Baghdadi died Saturday Night when being pursued by U.S. forces north of Idlib, Syria, when he detonated his suicide vest in a tunnel killing himself and three of his children,
President Drumpf announced at the White House today, that:
"Abu Bakr al-Baghdadi is dead."
providing graphic details of Abu Bakr al-Baghdadi's final moments.
"Last night, the United States brought the world's No. 1 terrorist leader to justice… No U.S. troops were killed in the operation… Al-Baghdadi's identity was confirmed by a DNA test conducted onsite"
In a national address today ( Video below), President Drumpf described the nighttime airborne raid in N.W Idlib province, in Syria, with American special operations forces flying over heavily militarized territory controlled by multiple nations and forces.
And the President added:
"As U.S. troops bore down on al-Baghdadi, he fled into a "dead-end" tunnel with three of his children, and detonated a suicide vest, killing himself and the children… He was a sick and depraved man, and now he's gone… He died like a dog, he died like a coward."
President Drumpf revealed that eight military helicopters flew for more than an hour over territory controlled by Russian and Syrian forces, before landing under gunfire at the compound. U.S. forces breached the walls of the building because the doors were booby-trapped and chased al-Baghdadi into the tunnel, which partially collapsed after al-Baghdadi detonated the suicide vest.
Drumpf also said that U.S. forces spent roughly two hours on the ground collecting valuable intelligence.
Coming at one of the lowest points in his presidency, the al-Baghdadi operation marks a significant foreign policy success for President Drumpf, as he is facing widespread Republican condemnation for his Kurdish – Syria policy.
The recent pullout of U.S. troops, ordered by Drumpf, from Kurdish allied controlled N.E Syria, raised a storm of bipartisan criticism in Washington that ISIS could regain strength. Drumpf said that the  troop pullout "had nothing to do with this."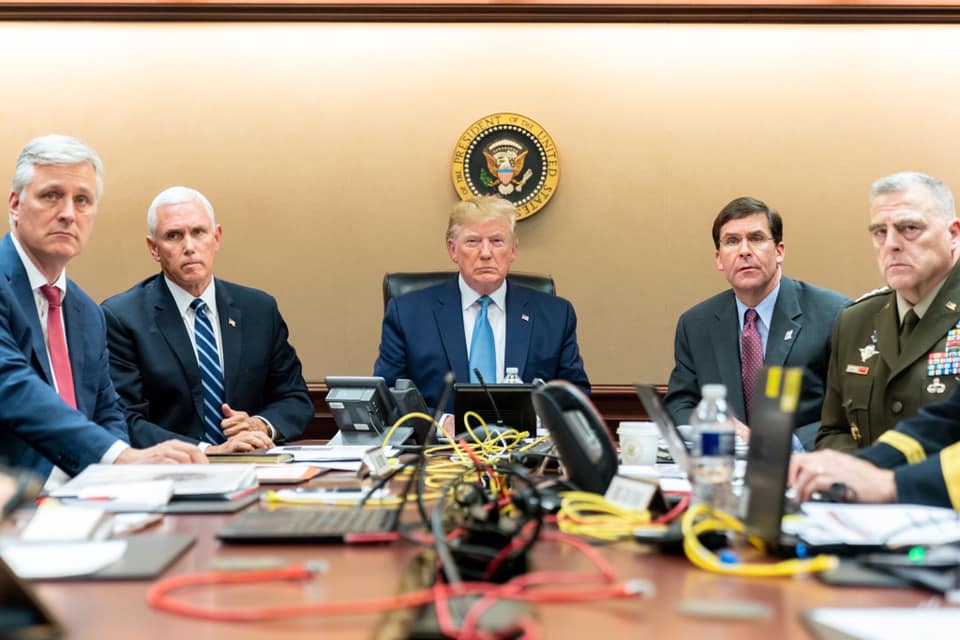 President said that he watched the operation from the White House Situation room "as though you were watching a movie", and he suggested he may "order the release of the video so that the world knows al-Baghdadi did not die of a hero and spent his final moments crying, whimpering and screaming."