NSC Lt. Col. Alexander Vindman, an Army combat veteran who served in Iraq and received a Purple Heart, became the first White House official to testify as part of the impeachment inquiry. In a 10 hours testimony behind closed doors  today with lawmakers and aides, Lt, Col. Alexander Vindman told House impeachment investigators that, he believed President Drumpf undermined national security when he appealed to Ukraine's president to investigate his political rivals.
Alexander's opening statement, leans heavily on his military service and a "sense of duty" to his country. According to the statement, the president's posture toward Ukraine sent shudders through the highest levels of the U.S. national security apparatus.
This would all undermine U.S. national security…"

Lt. Col. Alexander Vindman
Referring to Drumpf's efforts to pressure Ukrainian President to announce probes into Joe Biden and his son, Alexander Vindman, a National Security Council official overseeing Ukraine policy, told investigators:
"I did not think it was proper to demand that a foreign government investigate a U.S. citizen, and I was worried about the implications for the U.S. government's support of Ukraine,"
At the same Statement, Alexander Vindman also wrote that, after listening in the July 25th conversation from the White House Situation Room alongside other national security officials, he reported President's phone call with Ukrainian leader to the NSC's top lawyer
And he added in the same Statement:
"I realized that if Ukraine pursued an investigation into the Bidens and Burisma, it would likely be interpreted as a partisan play which would undoubtedly result in Ukraine losing the bipartisan support it has thus far maintained… This would all undermine U.S. national security… Following the call, I again reported my concerns to NSC's lead counsel."
"I am a patriot, and it is my sacred duty and honor to advance and defend our country, irrespective of party or politics,"

Lt. Col. Alexander Vindman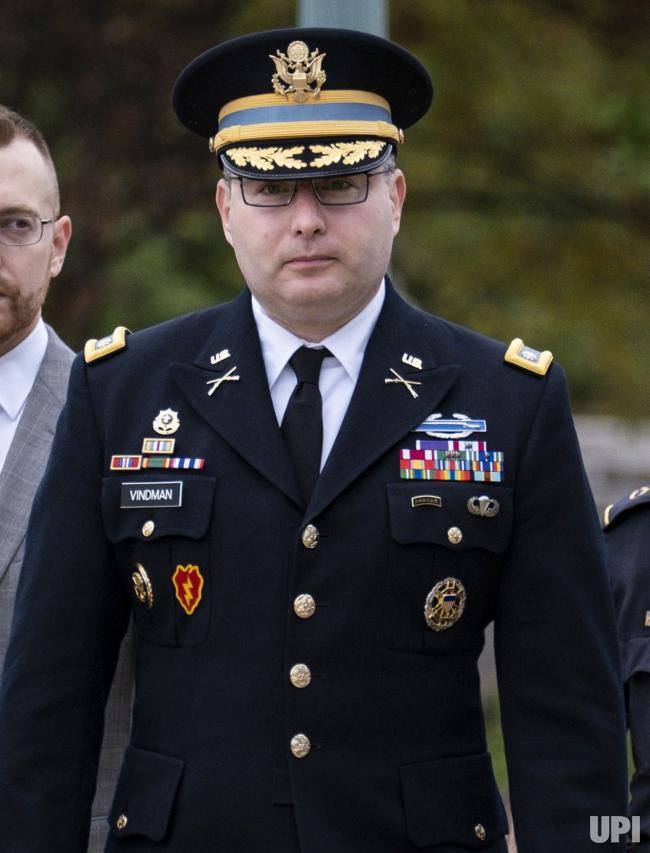 That was the second time Alexander Vindman had raised concerns to the NSC's top lawyer about a campaign by Drumpf and some U.S. officials to pressure Ukraine to launch investigations intended to politically benefit Drumpf.
Alexander Vindman wrote in his opening statement:
"I am a patriot, and it is my sacred duty and honor to advance and defend our country, irrespective of party or politics,"
Alexander Vindman defending his decisions to express his concerns about Drumpf to NSC'S top Lawyer, wrote:
"On many occasions I have been told I should express my views and share my concerns with my chain of command and proper authorities… As an active duty military officer, the command structure is extremely important to me,"
Adam Schiff Accused Republicans after the deposition, of seeking to help Drumpf "exact political revenge against the whistleblower, whose identity remains a secret" and he added:
"The president would love to punish the whistleblower. The president's comments and actions have jeopardized the whistleblower's safety… The president's allies would like nothing better than to out this whistleblower. Our committee will not be a part of that. We will not stand for that."
Top Republican on the Oversight Committee Ohio Rep. Jim Jordan, told reporters that Adam Schiff was preventing GOP lawmakers from pressing Vindman on whom he spoke with after Drumpf's call with Ukrainian Leader. Mr. Jim Jordan said:
"When there's a subpoena from Congress, we all get to ask the questions. And Adam Schiff doesn't get to say, 'Oh, you can answer our questions, but you can't answer the Republicans' questions… If he's so concerned about the rights of the Congress … let us get our questions asked and answered."
Cover Photo Taken by CNN