Republican President Donald Trump and his Democratic opponent Joe Biden "cross swords" for the first time today in a crucial Debate in Cleveland, Ohio.
Trump and Biden will try to describe tonight their completely different visions for the future of the country. As more than one million Americans have already begun voting, and as time runs out for candidates to influence the small percentage of undecided, or to attract voters from the opposing camp, the debate is expected to turn into a real battle.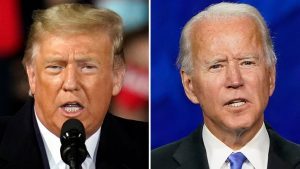 The 90-minute Debate, which will be held with a limited number of audiences with physical presence and under the rules of social distancing due to the COVID 19 pandemic, will start at 9pm EST and will be hosted by Case Western University Reserve, in Cleveland.
It is the first of three scheduled presidential Debates. The debate will be divided into six parts:
Trump and Biden – their politician history
The Supreme Court
The COVID 19 pandemic
The economy
The integrity of the elections
"Racial discrimination and violence" in American cities.
The stakes are high as the two candidates will face each other in this debate, just 35 days before the November 3 election.
Trump and Biden will take a stand on a range of hot issues, including the COVID 19 pandemic that has claimed the lives of more than 200,000 people in the United States and left millions unemployed, and the possible ratification of Amy Connie Barrett's appointment in the Supreme Court of the country and the ongoing demonstrations across the country against racist discrimination