A new campaign ad for Joe Biden features the wife of the late Senator John McCain, Cindy McCain of Arizona, who says the Democratic nominee would be "a president who will honor our fallen heroes."
The 60-second campaign ad video is titled "Like John Did,"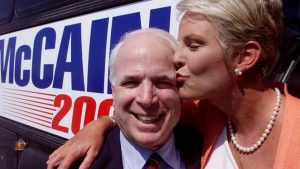 In the Video Cindy McCain describes Biden's friendship with her late husband in the Senate, where they served together for years, saying it was:
"a friendship that you don't see too often… They'd fight like hell on the floor, and then they'd go eat lunch together… They always put their friendship and their country first."
McCain then attacks the President, saying that America needs a president who will:
"put service before self… lead with courage and compassion, not ego…. honor our fallen heroes."
The "fallen heroes" comment appears to be a reference to a report from The Atlantic last month that claimed Trump had privately belittled service members who died in World War I, calling them "losers" and "suckers." Fox News and other outlets subsequently confirmed some of the details of the story, while Trump and a number of White House officials said the president never made such comments.
McCain who already joined the advisory board of Biden's presidential transition team, officially endorsed Biden for president in September. At the endorsement she said that the "only candidate in this race who stands up for our values as a nation."
Trump long had a contentious relationship with John McCain, with the former Republican senator regularly voicing criticism about his administration's actions. McCain was the GOP's 2008 presidential nominee and served in the Senate for more than 30 years before his death from brain cancer in 2018.
Source: – The Hill – The Atlantic – Fox News –
Photo article by: FOX23 News
Cover Photo by: Fox News