Hundreds of people sporting MAGA caps and waving American flags gathered in Washington today for President Trump's rally on the White House south lawn.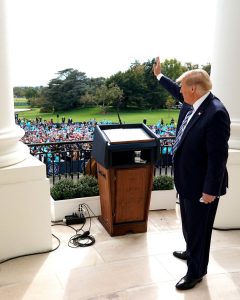 The rally today, marks the first major event at the White House since the COVID 19 'super-spreader' event in the Rose Garden on September 26 where President unveiled Amy Coney Barrett as his Supreme Court pick.
The president emerged today from the White House, pumping his fists, to cheers of "USA" from the audience.
President was not wearing a mask as he addressed a crowd of a few hundred cheering supporters today afternoon from a White House balcony, where he spoke about "law and order" issues in the country.
"I'm feeling great," he said, and he sounded better in his nearly 20-minute speech today, contrary to a taped videos  earlier in the week, where the president had at times appeared short of breath,
At his speech today, the President attacked his Democratic rival, Joe Biden, as a socialist, touted his own record on the economy and said he wanted to send a message "to police officers of every race, color and creed: we support you, we honor you." He concluded his remarks by urging supporters to vote.
"I'm honoured to welcome you" he said, and he continue saying: "We call this a peaceful protest in the White House in support of the incredible men and women of law enforcement and all of the people that work so well with us,"
Most audience members wore T-shirts that read "Blexit Backs the Blue"—a reference to the Blexit Foundation, an organization that encourages Black voters to leave the Democratic Party and helped coordinate Saturday's event—along with red "Make America Great Again" caps.
Sources: – FOX News – WSJ – BBC –
Article Photo above by NYT
Cover Photo by:  MANDEL NGAN/AGENCE FRANCE-PRESSE/GETTY IMAGES