SALT LAKE CITY — Utah Valley Hospital in Provo – Utah has confirmed that "a few" people trying to prove debunked conspiracy theories about COVID 19 have tried to gain physical access to the Utah Valley Hospital.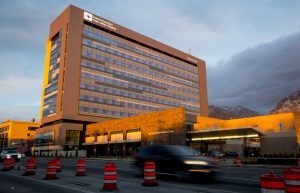 Kyle Hansen, the Intermountain Utah Valley Hospital administrator, during a presentation to the Provo Municipal Council on Tuesday, reported that staff members have dealt with a number of conspiracy theorists trying to gain access to the hospital. At the same time, Utah Valley  hospital has also been dealing with calls from the general public surrounding statistics that have been seen in the media as well as questions surrounding hospital or ICU capacity.
Utah Valley Hospital released the following statement:
"Utah Valley Hospital recently provided an update on it's COVID-19 response to the Provo City Council which included a discussion about a few individuals without a medical need who have attempted to gain physical access to the facility with the intent try to confirm fake conspiracy theories – such as hospitals are not busy and that reports of the COVID-19 surge are false."
"Hospital staff have also fielded some telephone calls regarding similar false conspiracy theories. Although these situations are few and isolated, stopping attempts to gain inappropriate access and responding to fake conspiracy theories diverts attention from providing lifesaving care provided at the hospitals."
"COVID-19 is real and the hospital is seeing large increases in patients with the virus. Staff are stretched and are working many extra hours to meet community needs. We ask the public to join with us, mask up, wash hands, social distance, and stay home when sick so we can care overcome the challenges of this pandemic in our communities."
The moves by conspiracy theorists — which include lying about having a hospital appointments — has led to changes in procedures. according to a report by the Daily Herald.
Source of info: – Daily Herald -KUTV – heraldextra.com –2News –