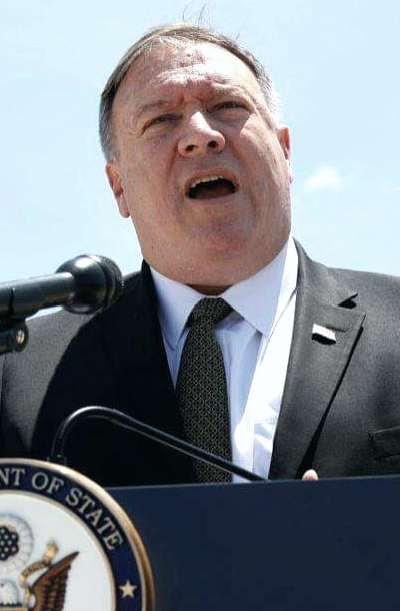 The Wall Street Journal first reported that Secretary of State Mike Pompeo was on the July 25 phone call between President Drumpf and the Ukrainian Leader Volodymyr Zelensky. The State Department has not yet responded.
Based on Wall Street Journal Report today:
"Secretary of State Mike Pompeo was among the administration officials who listened in on the July 25 phone call between President Drumpf and Ukraine's president, a senior State Department official said Monday, a disclosure that ties the State Department more closely to the House impeachment inquiry"
Last week while in New York for the UN General Assembly, Mike Pompeo was asked about the whistleblower complaint and he said at that time that he had not yet read it in full. When asked if he or his staff acted improperly, Secretary of State Mike Pompeo responded that, "to the best of my knowledge, each of the actions that were undertaken by State Department officials was entirely appropriate. You just gave me a report about a whistleblower complaint, none of which I've seen,"
Last Friday, the chairmen of the House Foreign Affairs, Intelligence and Oversight committees, Democratic Reps. Adam Schiff of California, Eliot Engel of New York and Elijah Cummings of Maryland subpoenaed Mike Pompeo over his failure to produce documents related to Ukraine.
At the letter to Secretary of State we read:
"Pursuant to the House of Representatives' impeachment inquiry, we are hereby transmitting a subpoena that compels you to produce the documents set forth in the accompanying schedule by October 4, 2019…. – The subpoenaed documents shall be part of the impeachment inquiry and shared among the Committees… – Your failure or refusal to comply with the subpoena shall constitute evidence of obstruction of the House's impeachment inquiry."
The Full letter to Pompeo by the Three Chairmen below
In addition to the subpoena, in a separate letter the chairmen informed Mike Pompeo  that they had scheduled depositions for five State Department officials who have been mentioned in relation to the inquiry: Volker (resigned on Friday), Ambassador Marie "Masha" Yovanovitch, now-former Ambassador Kurt Volker, Deputy Assistant Secretary George Kent, Counselor T. Ulrich Brechbuhl and Ambassador Gordon Sondland.
This story has been updated.
(Cover Photo by: https://xxy.zaa.mybluehost.me/trump-the-realist/?fbclid=IwAR3Qmh1dY8lmTKMmyLDVjJC6hp551AK4e1CjA6S4SKKAx_Ts5vwWXDJdo3Q