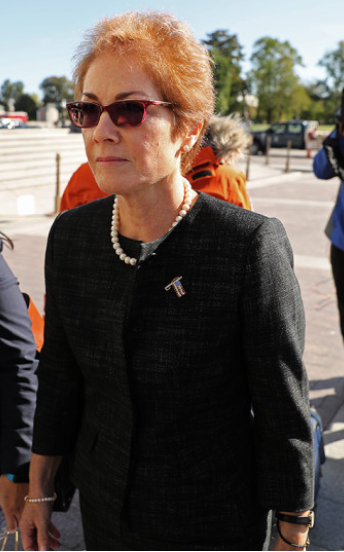 Marie Yovanovitch, the former U.S. ambassador to Ukraine, told today to the House impeachment investigators that she was "abruptly forced out" of her role in May at the direction of President Drumpf.
Marie Yovanovitch's appearance on Capitol Hill today is a breakthrough for the impeachment inquiry who is seeking firsthand details about president's efforts to pressure Ukraine's leaders to investigate Biden.
Unlike Kurt Volker, the last witness in the Ukraine matter to testify Marie Yovanovitch is still employed by the State Department. Yovanovitch, agreed to comply with the subpoena over her agency's objections. Yovanovitch remains a State Department employee, and she was the latest firsthand witness to testify about Drumpf's interactions with Ukraine… The chairs of the committees leading the investigation said the State Department and the White House had ordered Marie Yovanovitch not to attend, prompting them to issue a subpoena…
The fact that Yovanovitch is still employed by the State Department, raises questions about whether she'll face any punishment for defying orders.
the State Department has been attacked and hollowed out from within."

Marie Yovanovitch – Former U.S. ambassador to Ukraine
John Sullivan, the Deputy Secretary of State told Yovanovitch that there was  "a concerted campaign" against her based on "unfounded and false claims by people with clearly questionable motives.".
According to Yovanovitch's opening statement (Reed Statement at the Below Photo Gallery) Drumpf announced earlier Friday his intention to nominate Sullivan to be his new ambassador to Russia.
"He also said that I had done nothing wrong and that this was not like other situations where he had recalled ambassadors for cause,"
Adam Schiff (D-Calif.), the Intelligence Committee Chairman, Eliot Engel (D-N.Y.), the Foreign Affairs Committee Chairmanand Elijah Cummings (D-Md.), the Oversight Committee Chairman said today:
"Any efforts by Drumpf administration officials to prevent witness cooperation with the committees will be deemed obstruction of a co-equal branch of government and an adverse inference may be drawn against the president on the underlying allegations of corruption and cover-up,"
According to Yovanovitch's statement, her removal came amid a campaign by Drumpf supporters to accuse her of disloyalty, a charge she said was "fictitious." In late April 2019, According to her statement, Yovanovitch was told "abruptly" to return to Washington "on the next plane."
During a phone call with Ukraine's newly elected president Volodymyr Zelensky on July 25, Drumpf himself attacked the former ambassador to Ukraine referring to her as "bad news,"
In her opening statement Yovanovitch said "the State Department has been attacked and hollowed out from within."
She also said that:  "U.S. interests are "harmed when private interests circumvent professional diplomats for their own gain, not the public good."
"The harm will come when bad actors in countries beyond Ukraine see how easy it is to use fiction and innuendo to manipulate our system… In such circumstances, the only interests that will be served are those of our strategic adversaries, like Russia, that spread chaos and attack the institutions and norms that the U.S. helped create and which we have benefited from for the last 75 years."
Related Articles